Elder Duane E. Bennett

|
Senior
Pastor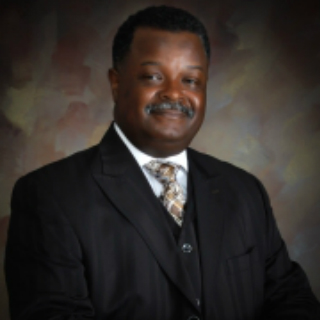 Elder Duane E. Bennett is the second child born to the late Administrative Assistant George M. Bennett and Mother Earline Bennett. Elder Bennett was born in the city of Saginaw, Michigan and at the age of nine moved to Muskegon Michigan.
Elder Bennett matriculated in the Muskegon Public School system where he is a graduate of Muskegon High School . He later attended Spring Arbor College where he received a Bachelor of Business Administration and a Masters Degree in Education from Grand Valley State University. Elder Bennett was most recently employed by Johnson & Johnson as a Professional Sales Representative. Previously, Elder Bennett was employed for 14 years in Higher Education at Grand Valley State University and Millersville University of Pennsylvania. Some of Elder Bennett's civic and professional involvement includes Treasurer of the Michigan Financial Aid Association and Pennsylvania Black Caucus of Higher Education. He currently serves on numerous boards within the County of Muskegon and is a teacher in the Prison Fellowship Program for inmates.
Elder Bennett worked in various capacities of the church; Youth Department, Brotherhood, Bible and Bagel for Men, Finance, Sunday School, Music Department and the Usher Board. He also served as the Administrative Assistant to his father, the late Administrative Assistant George M. Bennett at Mt. Zion Church of God in Christ. In 2005, Elder Duane E. Bennett was appointed as Co-Pastor of the church and in 2007 he was appointed Senior Pastor.
Elder Duane Bennett married Dr. Beverly Cole-Bennett who is affectionately referred to as "First Lady" in 1981. Dr. Cole-Bennett is the daughter of the late Donald Cole and Missionary Delores Cole. She is a graduate of Michigan State University (East Lansing MI), Eastern College (St. David, PA) and Argosy University (Sarasota FL).
Dr. Cole-Bennett has served in many capacities within the following church departments of the church including Sunday School, Youth Department, Young Women's Christian Council, Junior Missionaries, Hospitality, Tutor/Mentor, Music Ministry and Couples Ministry. She currently teaches an Alternative Sunday School Class that is offered twice a week in virtual and physical classrooms and is the founder of the "Sister to Sister Ministry" in Lancaster Pennsylvania. Each Monday evening at 8:30 p.m.you can connect with Dr. Beverly Cole-Bennett on a teleconference prayer line.
Elder Duane Bennett and Dr. Beverly Cole-Beverly have one son, Dr. Duane E Bennett II (Melanie Scott-Bennett, Esq).